Bloomberg: Brooks Needs Runners Who Hate to Run
The $500 million company has conquered runners. Now it has to figure out everyone else.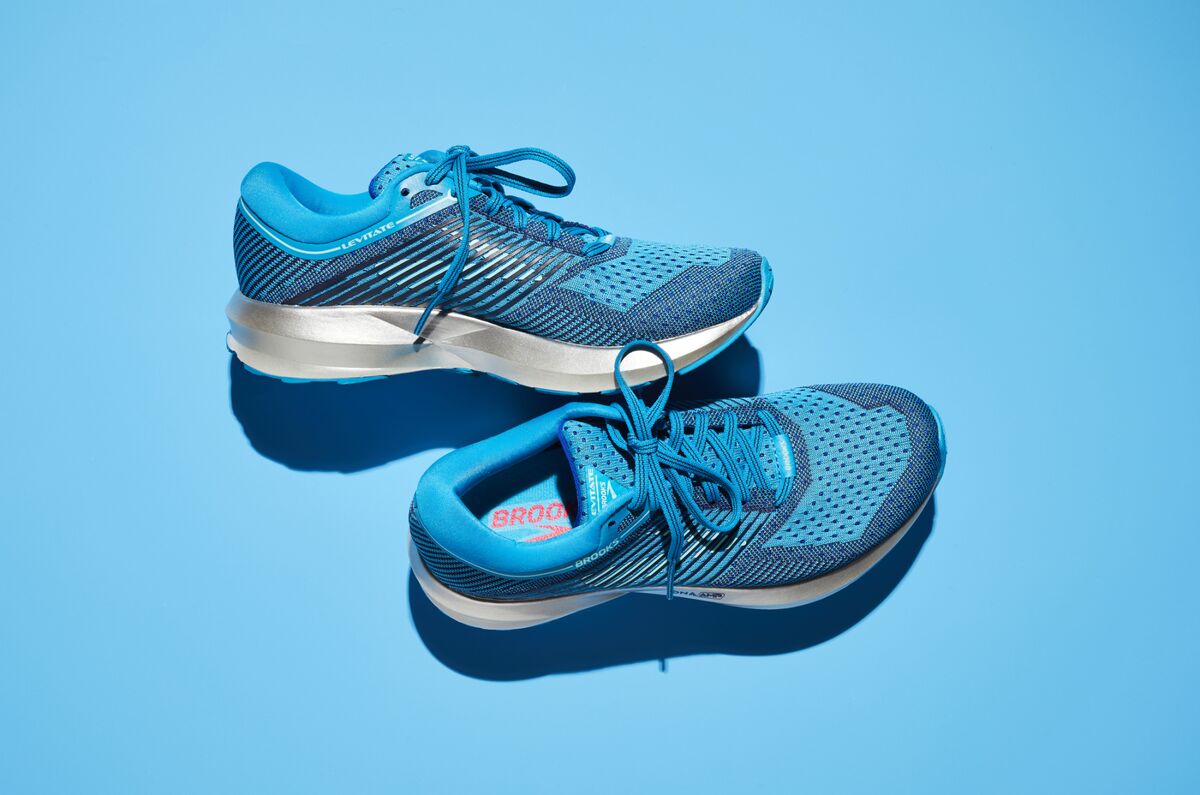 https://www.bloomberg.com/news/features/2018-01-03/why-brooks-needs-runners-who-hate-to-run
According to the people at Brooks Sports Inc., I'm not a runner. I'm what's known within the company as a person who runs. "There's a difference," says Brooks Chief Executive Officer Jim Weber, who's run three to five mornings a week, every week, for 35 years but apparently isn't a runner either. When he says this, I give him a look, because, frankly, that's ridiculous. I've been running for more than two decades. I run on business trips and vacations. I track my weekly mileage and voluntarily eat packets of electrolyte-enhanced goo that—why does no one talk about this?—tastes like mediocre cake frosting. In 2016, I ran my first marathon, an experience that melded transcendent euphoria and throbbing pain into an entirely new emotion I can't really describe, other than to say it was both the best and worst thing I've ever felt. How am I not a runner?
"That's a self-defined runner," Weber explains, not a runner in the competitive, professional sense. And that's all right, because—and here Weber lowers his voice like he's gossiping about someone behind her back—"Running's not really a sport."
He has a point. Every year, 19 million Americans participate in some kind of organized road race—five times the number of people who play in basketball leagues—but most aren't competing to win anything. Some 28 million more run regularly but don't race. "Nobody remembers who won the Olympic marathon and what shoe they were wearing," Weber says. So for Brooks, the 104-year-old Seattle-based company that makes running gear, and only running gear, to persuade those 47 million people to drop $100 to $180 on a pair of shoes, it first has to understand why they're running. "The answer is almost always personal," Weber says. "When people run, they're doing it for themselves."
This running-as-lifestyle philosophy has propelled Brooks from being a forgettable brand that 17 years ago was on the brink of a second bankruptcy to a $500 million company. It sells shoes in more than 60 countries, is the top brand at specialty running stores, and has produced the first- or second-­most-popular shoe at the Boston Marathon for the past four years. At the 2016 Olympic marathon trials, more runners wore Brooks than any other brand. "Nike was second! To us!" Weber pumps his fist when he says this, adding a quietly ebullient "Yesssssss.
But beyond devoted runners, the company is still relatively unknown. Strava, the athletic activity tracker, says about a sixth of runners who log more than 30 miles a week wear Brooks shoes but only 3 percent of those who run less than 10 miles a week wear them. As a result its sales pale compared not only with those of Nike (the Goliath of the business, with $5.2 billion in annual revenue and a full third of the market), but also with those of Adidas, Asics, and New Balance. Brooks is so specific to runners that a few months ago, when employees saw someone wearing a pair at a bar in Texas they interrogated him—Did he run? How had he heard of Brooks?—in the middle of his friend's bachelor party.
Weber wants to change that. Over the next few years, he thinks Brooks can become a $1 billion brand, essentially doubling its revenue. It just has to figure out a more complex customer: the runner who doesn't like to run.
Brooks got its start in Philadelphia in 1914, making baseball cleats and lace-up bathing slippers for the era's demure beachgoers. It entered the running business in 1974 with a bouncy foam midsole that became so popular with people dabbling in jogging, the new fitness craze, that its Puerto Rican manufacturer couldn't fill orders fast enough and briefly shipped shoes with missing tongues or the wrong number of eyelets. Retailers returned almost $3 million in Brooks shoes, citing defects, and by 1981 the company had declared bankruptcy. For the next two decades, Brooks passed through a handful of owners: For a while, Wolverine World Wide Inc., the company that makes Hush Puppies, owned it; later two Norwegians bought it and moved it to Seattle to be closer to its (by then) Chinese manufacturers. None of Brooks's owners, however, were good at selling athletic sneakers. A 1993 Seattle Times article about the company's move to a new office building noted that Brooks's $30 million in U.S. sales was smaller than Nike Inc.'s advertising budget.
Weber, who'd previously worked at outdoor apparel and snowboarding companies, joined Brooks as CEO in 2001 at the request of yet another owner, private equity firm J.H. Whitney & Co. "We were losing money on everything we made," he says. He scrapped almost the entire product line—no more cleats or tennis or basketball shoes, no $30 cross-trainers sold at Walmart—and refocused the company on the one thing that still sold well: high-end shoes designed for serious runners.
According to the University of Calgary's Running Injury Clinic, half of all runners get hurt each year. As a result they tend to buy shoes not because of what they can do, but for what they might prevent, an experience more like filling a prescription than shopping. For years, the dominant assumption about injuries was that most happened when a runner's foot rolled inward (pronated) or outward (supinated) as it hit the ground. Too much of either and the runner hobbled away with overstretched ligaments or with knee, hip, or foot problems. Since the early days, Brooks tried to engineer shoes that corrected problems. They shone at specialty stores where experts watched customers trot, either on a treadmill or just down the aisles, then suggested models providing varying levels of cushioning and pronation control and assorted heel-to-toe ratios (the height of the heel relative to the forefoot). "They have legitimate products and great innovation," says Brett Lamb, who, along with his wife, Kim Holt, owns two San Francisco franchises of Fleet Feet Sports, a chain with 180 locations that, like Brooks, catered to the first wave of running enthusiasts in the 1970s.
Within a few years of Weber taking over, Brooks became the best-selling brand at specialty stores. Then Fruit of the Loom Inc., which is owned by Berkshire Hathaway Inc., bought the company in 2006. Brooks flew under Berkshire's radar for a couple of years until Todd Combs, one of Warren Buffett's investment managers, brought it to his attention. Combs is a triathlete; Ted Weschler, another top Berkshire investment manager, is a marathoner. Buffett may not have realized it, Combs said, but this random shoe company was doubling in size every three years.
Soon after, Buffett met with Weber, who explained his all-­running-only-running strategy. Buffett liked the idea of focusing on a niche market. "He thinks long-term," Weber says of Buffett, who told him: "Whatever you do, just make the brand stronger."
So that's what Weber did. Buffett was so pleased by Brooks's success that in 2012 he spun it off from Fruit of the Loom, which didn't have footwear experience. As Berkshire holdings go, Brooks is small, accounting for a sliver of the $24 billion it made in 2016. But for Buffett, it appears to be a source of pride. Brooks sells a limited-­edition sneaker and hosts a 5K race at Berkshire's famously ostentatious annual shareholder meetings, which take up an entire Omaha convention center. One year, Brooks printed a caricature of Buffett on the sneaker's heel.
As it happened, Brooks's reinvention as a running company ­coincided with a shift in how Americans approached their health. Suddenly everyone stopped wanting to "diet" or "exercise" and instead claimed to "eat clean" and be "into fitness." The Sports & Fitness Industry Association, which tracks athletic trends, estimates that since 2001 about 13 million Americans have taken up running—the equivalent of the state of Illinois waking up one day and deciding to go for a jog.
Running's de-­stressing, mood-lifting effects allow the sport to fit nicely among other wellness trends such as yoga and meditation, pursuits people believe will clear their minds, slow them down, and imbue life with a sense of purpose. And unlike other sports—cavemen probably never played football—running is natural. Organic. It's no surprise then that in about 2009 a new trend, spurred by ultramarathoner Chris McDougall's book Born to Run, emerged: Maybe running was so natural and organic that shoes weren't even necessary.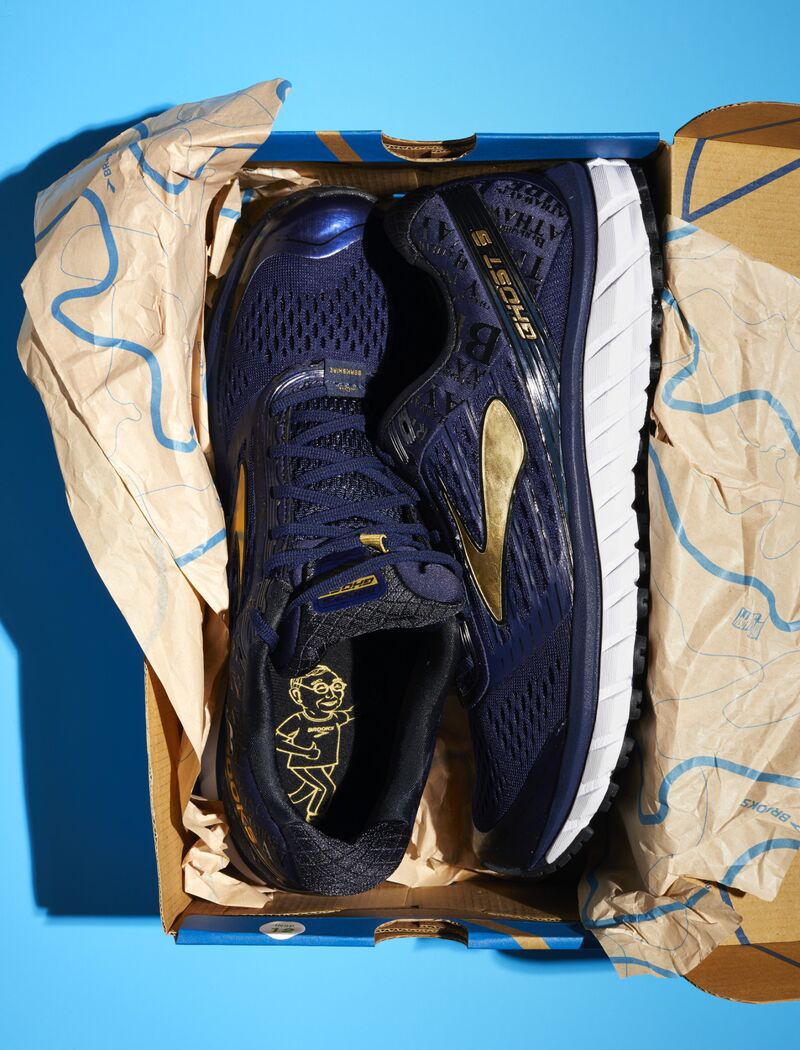 McDougall looked at injury rates and said, wait a minute, why were runners still wrecking their knees and getting shin splints as often as they did 30 years ago? What were these expensive shoes even doing? At the same time, several biomedical researchers published papers questioning the relation between pronation and injury. "When you tried to look at the science behind the shoes, there wasn't any," says Nick Campitelli, an Akron podiatrist who writes Dr. Nick's Running Blog. "Companies talked about innovation, but they usually meant the shoe's materials, not evidence-based biomechanical studies." Born to Run became a best-seller; sales of traditional running shoes dropped. Suddenly, people started plodding through parks in a product from the Italian company Vibram SpA, which began making thin rubbery slippers with individual toe pockets that look a little like work gloves for your feet.
"I was like, Oh my God, nobody is going to run in our shoes anymore," says Carson Caprara, Brooks's director of global footwear product line management. Caprara, a marathoner, had read Born to Run but never thought its notions would catch on. He watched confusedly as these slippers grew to account for almost a fifth of all running shoe sales.
In the end, the trend was short-lived. "Are You Ready to Go Minimal?" Runner's World magazine asked in 2012; "Sales of Minimalist Shoes Plummet," it announced a year later. In 2014, Vibram settled a class-action lawsuit, agreeing to pay $3.75 million to settle claims that it made deceptive statements about the health benefits of its shoes without offering any scientific proof. Sales of traditional shoes rebounded, and by 2014 there was even an extreme-cushioning movement.
Still, Caprara couldn't get over it—millions of people had eschewed the find-shoes-to-fix-your-gait selection process. Brooks needed to tap into whatever was motivating those runners, because it definitely wasn't injury prevention. To that end, it hired Ideo, the Palo Alto design firm famous for creating the original Apple mouse, to help answer a seemingly simple question: Why do people run? Ideo visited shoe stores across the country and approached casual joggers. The answer was as simple as the question: Most people ran because they liked it. It wasn't easy. Sometimes their feet felt like anvils, and their shorts started chafing, and their phones ran out of power mid-­Beyoncé. But the mindfulness crowd had actually been onto something. Running was freeing. Refreshing, even. Wobbly ankles weren't a concern.
There were those, though, who confessed that they didn't enjoy it—they just ran because it was good for them. "They'd try to life-hack their way into doing it," says Clark Scheffy, Ideo's managing director. "I remember one woman we talked to who had an iTunes playlist, and she knew that if she got through all the songs, it would be 30 minutes and she could stop. It was very SoulCycle-ish—working out because someone is yelling at you, vs. someone running for the love of running." Brooks hadn't considered this kind of customer before. "They just want us to make running easier," Caprara says.
They also wanted to look cool. Brooks had been so focused on designing shoes for avid runners that the entire athleisure, sneakers-to-work trend had passed it by. Nike and Adidas AG couldn't sell their black-knit and white-soled sneakers to the juice-cleanse crowd fast enough, while most of Brooks's best-­selling shoes still looked like something you might have seen on a Mall of America power walker in 1998.
So Brooks set about creating lighter, sportier shoes. It updated its colors—a lot of black, some white with gray, a little neon. In 2017 "they finally came out with a shoe, the Revel, that's basically the first time they've made something really visually appealing," says Lamb of Fleet Feet.
Brooks also built a shoe for those who wanted to run but needed a literal push. In 2015 it asked the German chemical company BASF SE to invent a material that, when you ran, gave you a little bounce. BASF came back with a polyurethane foam—the type of compound running shoes were made of 20 years ago, before gels and air bags became trendy—that was so springy it felt as if it were pushing your foot forward. Running brands love assigning futuristic names to their proprietary materials; Nike has the Lunarlon, Asics Corp. has FlyteFoam. Brooks went with the vaguely ­scientific-sounding DNA Amp. "Then we shaved down the heel so it was more like a racing flat and runners landed quicker," says Eric Rohr, Brooks's senior biomechanical engineer.
While Brooks was partnering with Ideo to learn about casual runners, it also revisited its theories about pronation and supination. When the company moved its headquarters into a new building in Seattle's Freemont district in 2013, it had added a test lab, staffed with engineers such as Rohr. "We found that, except in extreme cases, the way someone's foot falls doesn't affect their runs," he says. Today, the Brooks website offers a survey that mixes people's mechanical needs (Do you have preexisting injuries? How's your balance?) with their wants (Do you want that cushioned, Cadillac-style shoe? Or would you like to literally pound the pavement?). The company is trying to get gait-assessing salespeople on board with its new method, too. In September, Brooks paired its DNA Amp sole with a trendy (and less expensive to produce) knit upper. The shoe, which Brooks calls the Levitate, sells for $150—on the higher end of its price range—and comes in four colors: royal blue or gray for men, electric blue or white for women. The sides of the midsole are painted to look like chrome. It probably won't inspire sneaker collectors to scour resale sites, but it's Brooks's most popular shoe in six years. "Is it as cool as the coolest Nike shoe out there?" Caprara asks. "I don't know. But it's cool for us."
Brooks has never done much advertising, instead relying on reviews in magazines such as Men's Health and Runner's World to sell products. But last fall the company hired as its chief marketing officer Melanie Allen, who oversaw seasonal promotions at Starbucks Corp. (translation: Pumpkin Spice Latte). In June, a few months before the Levitate came out, Brooks pulled a big (for it) promotional stunt. It offered to pay $1 to anyone who signed up as an official sponsored athlete. (Real track-and-field sponsorships are notoriously meager; a 2012 MarketWatch survey found that 80 percent of runners ranked in the top 10 for their events made less than $50,000 a year. Brooks's sponsorship stunt is roughly equivalent to adding one professional runner to its roster.) More than 60,000 people have signed up and subsequently peppered social media with tongue-in-cheek posts about their sponsorship deals. They share their 4-mile runs and 9-minute miles. Sometimes they'll use the #brooksendorsed or #brooksathlete hashtags on pictures of themselves wearing Brooks shoes (but often other companies' clothing). The Levitate has been popping up with increasing frequency on these sponsorees. A few weeks ago a woman in London used them to run on a treadmill while watching Netflix. A man in Maine went for a walk in them. "They're so light," gushed one new fan, Marisol Beck, 22, in Carlsbad, Calif., who took up running in 2016.
Beck had never heard of Brooks before then. A boyfriend got her into running, and she liked it so much she continued even after he became an ex. For a while she ran in Fila but switched to Brooks because she liked the way they looked and felt. She now owns two pairs but admits she's hardly the competitive runner the company is known for outfitting. Mostly she just runs around her neighborhood, at about 10 minutes a mile. In June she ran her first 5K. In 2018 she wants to try a marathon. "A few months ago, I never would've even called myself a runner," she says. I don't have the heart to tell her that, technically, she isn't one.