17 Homemade Cycling Snacks + Recipes To Fuel Your Next Ride
What does springtime + your nutrition have in common? They both are a time for your outdoor riding and on-the-bike nutrition to start blossoming!
As we make time to get outside this spring and ride more we should also be taking the time to work on what we are eating on the bike as well. This helps us learn what foods work best for our bodies. Whether it's for an upcoming event, long training ride, or group ride with friends practicing on the bike nutrition is an essential practice as a cyclist.
I prefer training with real, homemade biked goods vs. store-bought energy bars and gels. After taking adventure trips to Northern Wisconsin, Fruita, CO and Eagle, CO, I've made and tested out different homemade bike snacks and lunches on my rides. Each providing me with a different benefit depending on the type of ride.
The most important takeaway about your on the bike nutrition is testing and eating what works best for you. Make sure to take the time to reflect and document what foods make you feel and perform your best.
As a starting point and a little inspiration, here are 17 of my top homemade bike snacks along with the recipes so you can give them a try on your next ride.
1. 3 Ingredient Muesli + Nut Butter Granola Bars
As simple as 1,2,3 these muesli granola bars come together in a hurry! My favorite part is they are just as easy to grab, snack, and go as they are to make. Make a batch to treat yourself to a sustaining snack throughout the week. Quickly snatch one from the fridge before a training ride or top one with some nut butter and fresh fruit for a mini dessert or recovery snack.
Ingredients
Directions:
Pour dry muesli into a large bowl and set aside. Combine almond butter and honey in a pot over medium heat. Heat until just bubbling, stirring often. Pour almond butter/honey mixture over the dry muesli and use a spatula to combine well. Press evenly into an 8×8″ pan lined with parchment paper. Freeze 1+ hours, cut into bars, and store in the fridge for snacking all week long!
2 & 3. Homemade Energy Squeeze Two Ways
What's an easy, no-fuss way to get your nutrition in during a ride? By slurping it out of a reusable baby food pouch of course! A fun twist on store-bought gels and packets, these homemade energy squeezes will have you feeling like a kid again. These recipes hit on all levels: Carbs from the sweet potato/banana and dates/honey, chia seeds to help absorb water and keep you hydrated, plus nut butter for a little fat which is good for longer endurance rides.
Sweet Potato PB and Date Squeeze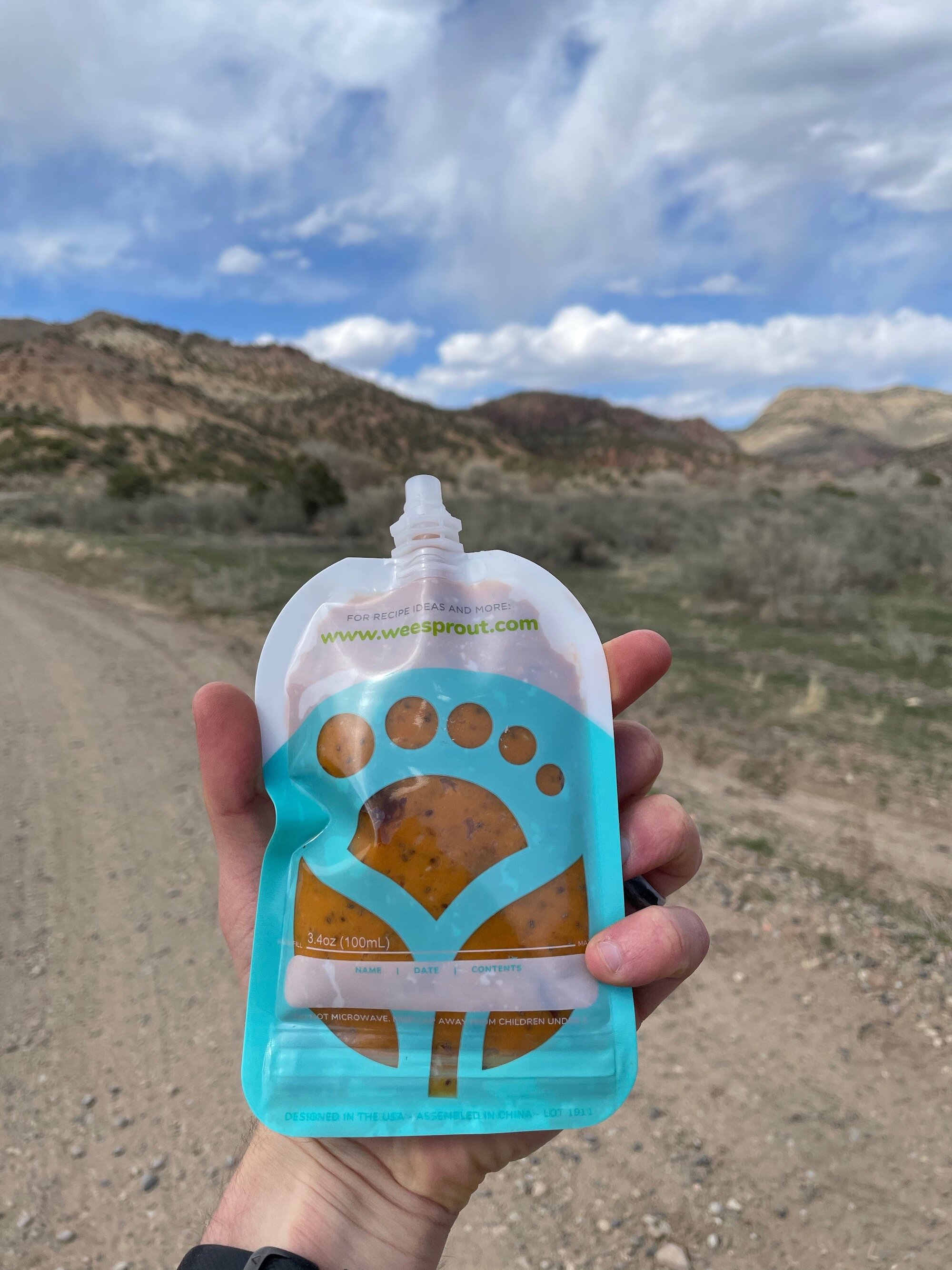 Ingredients
1/2 cup cooked, mashed sweet potato
1/3 cup dates, finely chopped
2 Tbsp peanut butter
1 tsp chia seeds
1/8 tsp sea salt
2 Tbsp water, plus more to reach desired gel consistency
Directions
Combine sweet potato, dates, peanut butter, 2 Tbsp water, chia seeds and salt. Stir until well combined. Add the mixture to a reusable food pouch like the WeeSprout or to a plastic bag. Store leftovers in the fridge for up to 5 days
Cashew Honey Banana Squeeze
Ingredients
1 cup roasted cashews
1 ripe banana, mashed
1-2 Tbsp of honey
1 Tbsp chia seeds
Sea salt to taste
1tsp of cinnamon
Pinch of coconut sugar
A little neutral-flavored oil or water for desired thickness
Directions
If your cashews aren't roasted, pop em' in the oven at 350 for at least ten minutes. Add banana, honey, chia seeds, salt, cinnamon and coconut sugar to a high-speed blender and mix on high. Add in small amounts of neutral-flavored oil or water to reach desired consistency. Add the mixture to a reusable food pouch like the WeeSprout or to a plastic bag. Store leftovers in the fridge for up to 5 days.
Tip: Roasting nuts helps bring out their natural oils and gives them a deeper depth of flavor. It also can make blending them easier.
4. Banana Raisin Rice Muffins Inspired By Skratch Labs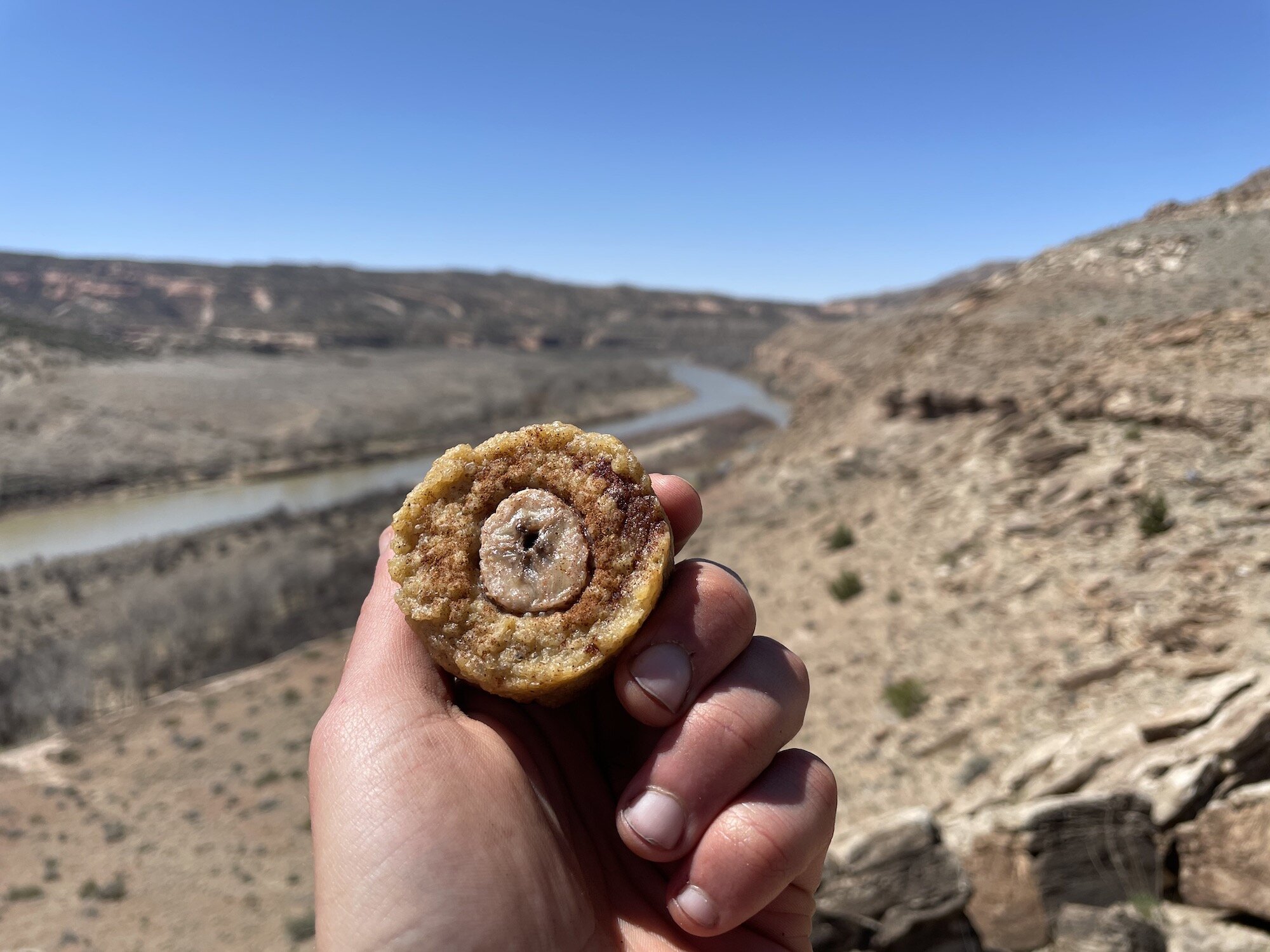 Skratch Labs is known for its simple, delicious, and easy to prepare recipes for athletes. A spin-off of their Banana Rice Pancakes, these rice and banana muffins are your best friend for a quick shot of carbs during an intense ride or race.
Ingredients
2 cups cooked white rice
2 eggs
1 ripe banana
¼ of banana, sliced
2 Tbsp coconut sugar
1 Tbsp rice or potato flour
¼ – ½ cup of almond or other plant-based milk
½ tsp cinnamon + more for sprinkling on top
¼ cup raisins
Pinch of salt
*Makes about 10-12 muffins
Directions
Heat oven to 325 degrees. Lightly grease or butter a muffin tin. Combine rice, eggs, 1 banana, coconut sugar, cinnamon and salt in a blender. Process quickly and slowly add in milk to make a thick batter. Gently fold in raisins. Fill muffin tin half full with batter. Top with banana slices and sprinkle with cinnamon. Bake for 15-20 minutes or until centers are firm. Let cool completely and use a knife to gently loosen from the pan. Store in the fridge in a sealed container.
*Recipe found in The Feed Zone Cookbook
5. Umami Rice Cakes From Skratch Labs
Another Skratch Labs invention, these rice cakes are a great portable pack of fuel for riding that requires a quick burst of carbs! Real food is what most people crave during endurance efforts, so give this savory cake recipe a try!
Ingredients
2 cups dry sushi rice
3 cups water (or 3 cups of broth)
1⁄4 cup Braggs Aminos or Coconut Aminos for a soy-free option
1⁄4 cup rice Vinegar
1⁄4 cup maple Syrup
1⁄3 cup extra virgin olive oil
Salt & Pepper to taste
1 1⁄4 Tbsp rice seasoning [Wasabi Fumi Furikake]
Directions
Rinse rice using a circular motion to polish rice and remove excess starch. Repeat 4-6 times. Repeat this rinse until water is no longer cloudy. Add fresh water after all the rinsing water has been removed. *Rice may retain some rinsing water, adjust accordingly. Cook in a rice cooker. Let sit for about 5 minutes in the cooker after it is done to make sure all moisture is absorbed. Transfer your rice to large mixing bowls with your rice paddle. We split into 2 batches, 1 with Braggs Aminos and the other with soy-free Coconut Aminos. Add maple syrup, aminos, rice vinegar, and olive oil. Gently mix with rice paddle while rice is still hot. Care is needed to not break the rice grains. Spread into an even layer onto a metal sheet pan using the paddle. Sprinkle on the rice seasoning.Cut into squares, about 2" x 2" in size. Place formed rice cake onto wrapper and wrap into a portable.
6. Better Than Blondie Bar Brownies From Uri Carlson
This recipe comes from a Breckenridge, Colorado local, URI Carlson. URI is a real food dietitian and RDN that helps athletes know what to eat. These Blondie Bar Brownies make a great treat for a day of cycling out in the mountains. Find more of URI's real food tips on her Instagram page and Inner Wild Nutrition website.
Ingredients
5 Tbsp softened butter
½ cup applesauce, at room temp
½ cup brown sugar
⅓ cup cane sugar
1 egg, at room temp
1 tsp vanilla extract
½ cup all-purpose flour
½ cup spelt flour (or more AP)
½ tsp salt
Optional add-ins
3.5oz dark chocolate bar, chopped
⅓ cup coconut flakes
⅓ cup banana chips
¼ cup pumpkin seeds
1 tsp flaky sea salt for topping
Directions
Preheat the oven to 350 degrees. Line an 8×8 pyrex (or similar) pan with parchment paper (dab the pan with butter to keep it in place, if needed) and set aside. Add the softened butter, applesauce, and sugars to a large bowl and beat until smooth. Beat in the egg and vanilla. On low speed, mix in the flours and salt until just blended. Fold in the chocolate chunks and add-ins. Transfer the batter to the prepared pan, gently spread out and top with a sprinkle of flaky sea salt. Bake for 25 to 30 minutes, until the top is set and a knife inserted in the middle comes out clean. Store in an airtight container or freeze individually wrapped bars for your next ride.
*Featured on Juliana Bicycles blog
7. Aussie Bites
When strolling through the aisles of Costco I came across these pre-made, delicious-looking treats. After looking at the ingredients on the container, I knew I could make my own homemade version and at a cheaper price. Aussie Bites are a little bit like a muffin, a soft granola bar or a healthy cookie. They're slightly sweet, soft, crumbly and also a tiny bit crunchy. Filled with mostly carbs and small amounts of fats and protein, these bike snacks are your best friend on a long ride.
Ingredients
1 3/4 cup rolled oats
1/4 cup granulated sugar
1/4 cup dried apricots
1/4 cup raisins
1/4 cup ground flaxseed
1/4 cup unsalted sunflower seeds
1/4 cup unsweetened shredded coconut
1/4 cup cooked quinoa
2 Tbsp chia seeds
1/4 tsp baking soda
1/4 cup honey
1/4 cup unsalted butter melted
1/4 cup canola oil
1/2 tsp vanilla extract
Ingredients
Preheat the oven to 350 degrees. Lightly grease a 24 count mini-muffin pan. Pour 1 cup of rolled oats into a food processor. Process for about 1 minute until oats are pulverized into oat flour. Add in the remaining 3/4 cup rolled oats, sugar, dried apricots, raisins, flaxseed, sunflower seeds, coconut, quinoa, chia seeds, and baking soda. Pulse until apricots and raisins are in small bits. Pour in honey, melted butter, canola oil, and vanilla extract. Pulse just until combined. Divide batter among the prepared muffin tin. Bake in the preheated oven for 10 to 12 minutes until golden brown. Remove pan from oven and let cool in pan on a wire cooling rack in the pan. Once completely cooled, remove from the pan and store in an airtight container for 4 to 5 days or in the freezer for longer.
*Inspired from the recipe by Stay At Home Chef
8. Raisin Date Muesli Breakfast Cookies
If you find yourself short on time before a ride and need something to fill your energy tank, give one of these wholesome, filling breakfast cookies a try.
Ingredients
12 pitted dates soaked in warm water for 10 minutes
⅓ cup boiling water
1 egg
3 Tbsp maple syrup or honey
3 Tbsp coconut oil, melted
1 tsp vanilla extract
2 cups Apple Almond Cinnamon or Classic Muesli
½ cup extra raisins or currants
¾ cup almond flour
½ tsp baking powder
½ tsp cinnamon
½ cup chocolate chips (optional)
Directions
Preheat the oven to 350F. Line a baking sheet with parchment paper. Roughly chop dates. Then, place dates in a large mixing bowl and add boiling water. Cover and let soak for at least 10 minutes. Mash dates and water until paste-like consistency. Add honey/maple syrup, coconut oil and vanilla extract and mix well until combined. Add in flour, muesli, salt, baking powder, and cinnamon. Mix until all flour is incorporated – should be a thick batter. Fold in chocolate chips if using. Measure out ⅓ cup flat (10 cookies). Flatten to ⅔ " thick rounds. Bake for 20 minutes or until golden brown. Remove from the oven and leave to cool. Store in an airtight container in the fridge or freezer.
9. Muesli Banana Bread Bites
Put your brown bananas to use by making a fun version of the ever-popular banana bread. They are perfect for training, racing or an easy day out on the trails. Play around with the ingredients and flavors by adding nuts, spices, and seeds to your favorite muesli mix.
Ingredients
1-¾ cups classic muesli (Learn to make your own here!)
¼ tsp cinnamon or cardamom
¼ tsp fine salt
2 mashed bananas
2 generous Tbsp peanut butter
5 Tbsp of maple syrup
¼ cup dark chocolate chips
Directions
Preheat the oven to 345°F. Combine all of the dry ingredients. Mash bananas in a separate bowl and combine with maple syrup and peanut butter. Combine the dry and wet ingredients. Taste your mixture and season with salt and spices. Line a baking tin with parchment paper and spread out the mixture evenly about 1 inch thick. Use a spatula to even it out on the top (if there are any oats or bits sticking up, they can burn, so make sure it's as smooth as possible.) Bake the loaf for 20-30 minutes or until golden and firm. Let cool before cutting the loaf into bites.Store in an airtight container in the fridge for about a week, or in the freezer for up to three months.
10. Sweet Potato Espresso Kick Cake
I love using sweet potatoes in biked goods because of their versatility and ability to pair well with other foods. I rely on these sweet potato espresso kick cakes to get that morning brew taste + a kick of energy to help get my ride started. Filled with sweet potato, dates, and ground espresso, these tiny little cakes pack a punch!
Ingredients
1/2lb sweet potato, cooked. (About 1 large or 2 medium potatoes. Peeling optional)
2 large eggs
12 Medjool dates, pitted (2/3 cups)
2 Tbsp coconut oil, melted
2 tsp baking powder
2 Tbsp cocoa powder
4 Tbsp ground espresso (or choose your own amount)
1/4 tsp salt
1/2 cup almonds
1/3 cups rolled oats
*Makes about 12 muffin cakes

Directions
Preheat the oven to 350*F. In a food processor or Vitamix add all the ingredients and combine well. Line your muffin tray with paper cups or grease with cooking spray. Fill the muffin tray with the batter and press down firmly. Smooth the surface with a wet rubber spatula or spoon. Bake for 25 minutes or until they are spongy and smell amazing.
*Inspiration from Hannah Grant's BeetRoot, Cocoa and Coffee Cakes@Dailystews
11. Apple Cheddar Scones
We often get caught up in the world of sweet, sugary bike snacks – especially in store-bought bars and gels. This recipe changes things up from the norm. The classic apple and cheddar cheese combo with a hint of rosemary in these scones give your tastebuds something new to get excited about come ride day.
Ingredients
1 ¹⁄ ³ cups whole-wheat flour
1 ¹⁄ ³ cups whole-wheat pastry flour or all-purpose flour
1 Tbsp baking powder
1/2 tsp baking soda
1 tsp fine sea salt (reduce if butter is salted)
1 stick (8 Tbsp) cold, unsalted butter
2 cups chopped Granny Smith apple (about 1 large)
1 cup grated cheddar cheese, divided
2 Tbsp chopped fresh rosemary or 2 tsp dried rosemary (optional)
1¹⁄ ³ cups plain, whole milk yogurt
Directions
Preheat the oven to 350°F. Line a standard baking sheet with parchment paper. In a large bowl, mix together the flours, baking powder, baking soda, and cut the butter into 1-inch cubes and add to the dry mix. Using a pastry cutter or your fingers, break up the butter into pieces and incorporate into the flour. If using your hands, work quickly to keep the butter cold.
Mix in the apple, 1/2 cup of the cheese, and rosemary (if using). Add the yogurt and mix until the dough begins to come together and then use your hands to incorporate any remaining.
Place the dough onto a lightly floured surface and shape into a 1 ½-inch-thick flattened log about 20 inches long. Cut the log into 12 triangles and place it on the baking sheet. Press remaining cheese on top of each scone. Bake for 25 to 30 minutes, or until golden
Leftover scones can be stored in the fridge or freezer. Thaw and reheat in the toaster or oven at 300°F for 10 to 15 minutes, or until warm and flaky.
Tip: If you don't have a pastry cutter, simply shred the entire stick or butter with a cheese grater and add in to the dry ingredients instead of cutting into 1-inch cubes.
12. Sweet Potato Race Cakes
Another Eat Race Win inspired recipe, these sweet potato race cakes are the ultimate riding fuel! Plus, I love how you can get creative with your cakes by adding your favorite fruits, chocolates, dried fruits and nuts on top to make each cake unique. (My favorite combo is pecans with dark chocolate chunks 🙂
Ingredients
2 cups baked sweet potato
4 eggs
2/3 cup rolled oats
2 Tbsp shredded coconut
6 dates
2 Tbsp firm honey
1 tsp vanilla extract
1 tsp cinnamon
2 tsp baking powder
zest and juice of 1 lime
1/2 tsp salt
1/4 cup + 2 Tbsp melted coconut oil
Add-ins/toppings
Blueberries, raspberries or banana slices – fresh or frozen
Dark chocolate chunks or chips
Pecans, walnuts or
Shredded coconut
Directions
Preheat the oven to 340F. Blend all the ingredients EXCEPT the coconut oil AND the berries. Blend until smooth. Add in the melted coconut oil while blending at low-medium speed.
Grease your muffin tins/paper cups and dust them with shredded coconut. Rinse the berries if you are using fresh ones. Spoon the batter into the tins/paper cups and press the berries into the batter. If you are bringing them to a race or a training session, make sure to cover the berries completely.
Now depending on how much batter you spoon in each cup, the baking time will vary. Try and keep them as flat as possible, about an inch. Bake it for 25-30 minutes. Rotate the cakes once or twice during the baking time to ensure even baking. The cakes are done when they are golden brown and firm. Cooldown and either serve straight away or wrap it for your next ride.
13. Sweet Potato, Nut Butter And Jam Pancake Sandwich
A classic twist on my childhood favorite peanut butter and jelly sandwich, this sweet potato, nut butter, and jam pancake sandwich is the ultimate bike ride lunch. It's full of carbs, fats, and a little protein to keep you full and fueled.
It's really simple to make. I use leftover pancakes from brunch the day before, slather on some almond butter and homemade strawberry balsamic jam, and smoosh another pancake on the end.
If you think you're really going to be extra hangry, throw some banana slices on there or drizzle a little honey for an extra punch.
Ingredients
2 cups all-purpose flour (I use a combo of almond/rice/millet flower)
1 cup mashed sweet potatoes (about one medium to large sweet potato)
2 tablespoons of coconut sugar
2 teaspoons baking powder
1/2 tsp salt
3 eggs
1-1/4 cup almond milk unsweetened
4 tablespoons of butter (If I don't have butter I use coconut oil)
Directions
Combine dry ingredients in a bowl and stir. Combine wet ingredients and sweet potato in a separate bowl and whisk. Combine dry and wet ingredients and stir until fully combined. Cook on medium heat and flip when bubbling When cooled, add nut butter, jam, honey and banana slices between two pancakes. Wrap in tin foil or reusable wrap like Bee's Wrap.
14. Cocoa Cashew Date Energy Bars
Inspired by one of my favorite cookbooks, Run Fast. Cook Fast. Eat Slow. these cocoa cashew date bars are the perfect combination of sweet, chocolatey goodness. There's nothing like enjoying a sweet almost, dessert-like energy bar to help keep you moving on the bike. The ingredients are simple and it only takes 30 minutes to whip up a batch of bars that will feed you for a couple of week's worth of rides.
Ingredients
2 cups pitted dates (Deglet Noor variety)
1 1/2 cups unsweetened shredded coconut
1 cup raw, unsalted cashews
1/3 cup unsweetened cocoa powder
2 tablespoons virgin coconut oil
1/3 teaspoon fine sea salt
Directions
In a food processor, combine all of the ingredients. Pulse a few times to chop the ingredients and then process on high speed for 1 to 2 minutes stopping once or twice to scrape down the sides of the bowl. Process until the ingredients clump together.
Line an 8X8-inch baking dish with parchment paper. Add the mixture and use your hands to spread out. Use a metal spatula to firmly press into an even layer filling the bottom of the dish. Chill for 30 minutes in the fridge and then slice into 16 bars. (A pizza cutter works great).
Tip: For an extra energy kick and more calories, top your energy bar with some nut butter and add another bar to make a sandwich out of them.
15. Homemade Trail And Nut Mix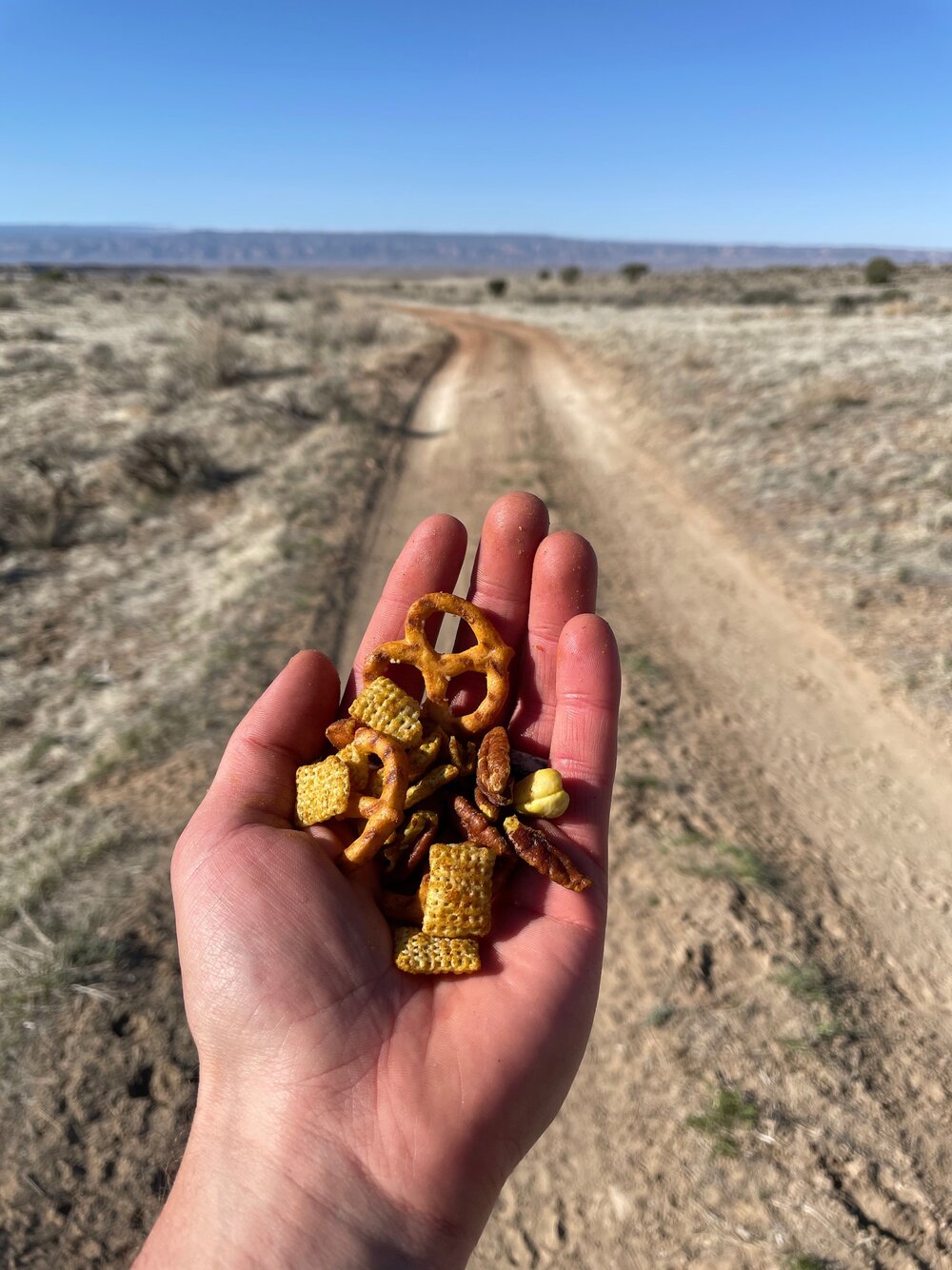 There is nothing easier than making your own homemade batch of trail mix. Forget buying expensive, pre-packaged trail mixes from the store when you can make your own instead. I bulk buy a combo of nuts and dried fruits that keep feeding my trail mix fix. Trail mix is the perfect mix of sweet and salty that you can easily pop into your mouth while on the bike.
Nuts (I use a combo of almonds, walnuts, cashews and pistachios)
Dried fruit (Craisins, raisins, dried tart cherries and banana chips)
Unsweetened shredded coconut flakes
Chocolate chips (Optional)
For a sweet and savory flavored trail mix try out this Maple Turmeric Chex and Nut Mix
This snack hits both the sweet and savory taste buds 😊 A combination of nuts, seeds, pretzels, and Chex mix gives this trail mix a nice balance for a sustainable snack, on longer, lower intensity rides.
Ingredients
3 cups rice Chex
2 cups gluten-free pretzels
1 cup cashews
1 cup almonds
1 cup pecans
1/4 cup sunflower seeds
1/4 cup pine nuts
4-5 Tbsp maple syrup
4 Tbsp coconut oil melted
2 tsp ground turmeric
1 heaping tsp cinnamon
1 tsp sea salt
1/4 tsp cayenne pepper (optional)
Directions
Preheat the oven to 350. Add Chex, pretzels, and nuts to a large bowl. Stir in maple syrup and melted coconut oil. Sprinkle turmeric, cinnamon, salt and cayenne (if adding) over top and toss to coat evenly. Add mixture to two large baking sheets lined with parchment paper (Turmeric stains!) Bake for 8-12 minutes, stirring every 4 minutes until the mixture turns slightly darker and becomes aromatic. Allow to cool completely and add to a glass jar or freezer-safe container.
Tip: Use a snack-sized reusable bag like Stasher to stash your trail mix in your feed bag or jersey for easy access.
16. Date And Nut Oat Energy Bars
These energy bars take a little bit more love and time to make but are worth it once you pop them in your mouth. Using a combination of dates, roasted nuts and rolled oats, this recipe makes a well-rounded nutritional snack.
Ingredients:
1 cup pitted dates (About 10)
1 cup water, hot
1/2 cup rolled oats
1/2 cup honey
1/2 tsp cardamom powder or cinnamon
1/4 tsp salt
1/4 cup sesame seeds
1 cup almonds
1 cup cashews
1/2 cup dried and unsweetened coconut
1/4 cup pistachios
1/4 cup pumpkin seeds
1/2 cup walnuts
Directions
In a bowl soak 1 cup of dates in 1 cup of hot water for 2 hours. Blend to smooth paste without adding any water. Keep aside. Combine 1 cup cashews, 1 cup almonds, ½ cup walnuts, ¼ cup pistachios, ¼ cup sesame seeds and ¼ cup pumpkin seeds in a large skillet. Roast on low flame for 5 minutes or until the nuts turn crunchy or become aromatic. Add ½ cup dry coconut and continue to roast
Transfer the roasted nuts to a bowl and keep them aside. In a large skillet take the date paste and saute on medium flame and cook until the date paste thickens. Add in roasted nuts, ½ cup honey, ½ tsp cardamom powder and ¼ tsp salt. Turn off the flame and stir until combined. In a pan roast ½ cup rolled oats on medium flame until it turns aromatic. Blend oats to a fine powder and add to the dry fruit dates mixture. Combine well, keep mixing until the mixture thickens. Transfer the prepared mixture into a greased plate lined with parchment paper. Set well forming a block. Allow setting for 1 hour in the refrigerator. Take out of the fridge and cut into 16 pieces
Finally, store an energy bar or store in an airtight container for a month in the refrigerator.
17. Mango Date Energy Bites
This recipe was inspired by one of my treasured grocery stores. COSTCO! When picking up a bulk container of Medjool dates, there was a simple recipe listed on the package. It includes dates, dried fruit, and quinoa. It's quite simple to whip together.
Ingredients
10 pitted dates
½ cup dried mango pieces (or your other dried fruit. Craisins, tart cherries or raisins make good options)
2 tablespoons of quinoa
1 tablespoon of hemp seed
Directions
Combine dates, mango, quinoa and hemp seed in a food processor or blender and blend until desired consistency. Roll into small balls with your hand or ice cream scoop and chill in the fridge for up to a month or even longer in the freezer
Join The Biked Goods Recipe Club
Would you like to see more homemade bike snack recipes like these? Then the Biked Goods Recipe Club is the place for you! This recipe club was born to bring together foodies and cyclists like you together. Get exclusive recipes, digital cookbooks, and access to a community that lives and breathes cycling and good food. Learn more about this club and sign up today so we can get cookin'! Sign me up for the recipe club!